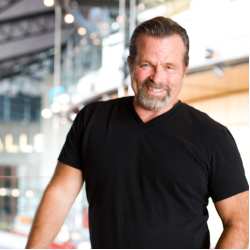 Tony Vicich is the owner and an instructor at comedyschools. Tony teaches the Beginning and Advanced Stand Up comedy classes, and the Sketch comedy class.

Starting his stand up comedy career in Los Angeles in 1985, Tony Vicich had been a national touring stand up comic for over 19 years. Prior to stand up comedy, Tony was a scholarship student at the world famous Lee Strasberg Institute. His television credits include EVENING AT THE IMPROV, SHOWTIME, MTV, COMEDY CENTRAL, FOX, and TNN.

In the mid-nineties he created and produced the television show TNN'S COMEDY ROUND UP. He has written for some of the top comics in the country, including Jay Leno, Jeff Foxworthy, Bill Hicks, Ritch Shydner, and Craig Shoemaker.

For many years Tony owned his own comedy club and talent booking agency. An expert in the field of one person shows, he directed Ritch Shyder's THE ADVENTURES OF CANYON MAN and was the creative consultant on Comedian of the Year Craig Shoemaker's sold out one man show WHOSE YOUR DADDY.

Tony Vicich has been the Director of Comedy at MyStudio.net since 2008. MyStudio is a stand-alone, state-of-the-art professional audio and video HD recording studio that allows consumer and professional users the opportunity to create professional studio quality audio and video sessions.
Tony's workshops have taken people all the way from a Free Intro Class to national television. Former students and alumni have appeared on Last Comic Standing, The Jimmy Kimmel Show, The Late Late Show with Craig Ferguson, episodic television, and commercials. In 2010 long time student Josh McDermitt landed a part as a series regular on RETIRED AT 35 with George Segal.

When asked what makes him different from most stand up comedy teachers, Tony said, "I guess the fact that I learned how to teach what I know how to do. A lot of people know how to do something, but don't know how to teach it. Like when my Dad taught me how to drive. He knew how to do it, but I don't think he knew how to teach it! That probably explains all of my accidents and speeding tickets! I just hope I can help people avoid the car wrecks that come with learning our craft."

Tony Vicich has the most popular and successful stand up comedy and sketch comedy workshops in both Phoenix and LA. Tony offer free intros to his workshop so people can decide for themselves if his classes are for them. Email or Call today! 818.571.5653