Long Form Improvisation Comedy Workshop!
Free Intro Class: @ Gangplank in Chandler TBA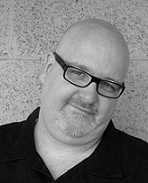 Learn the art of Long Form improvisation from Ken Ferguson. Ken is a father, husband and Improvisor. Ken has received training at the prestigious Improv Olympics Chicago and IO West (Los Angeles) He has been an ensemble player for several improv troupes and theatres such as Blue Door Theatre, Spokane, Wa. Jester'Z Improv Comedy, Scottsdale, AZ. The Remainders Musical Improv Comedy Troupe, Phoenix, AZ. Valley Fever Improv, Chandler, AZ. Notably, As a founding member, Ken toured with The Remainders Musical Improv Comedy Troupe for 4 years performing in the Toronto International Improv Festival, Austin, TX, Albuquerque, NM, Los Angeles, CA, Las Vegas, NV and throughout the state of Arizona including the Phoenix Improv Festival. Ken Founded EXiT 185 Improv Comedy in 2007. EXiT 185 Improv Comedy has been performing for nearly 5 years locally. In addition, EXiT 185 Improv Comedy was invited to perform in the Annual Phoenix Improv Festival in 2009, 2010, & 2011 where they performed at the Herberger Theatre. Ken also owned his own small stage theatre venue the BlackBox Theatre booking a variety of acts that spanned the full spectrum of the performing arts.
Questions? Email Us
or Phone:818-571-JOKE
(please see Locations page for maps and directions)

Gangplank
Gangplank Chandler
260 S Arizona Ave
Chandler, AZ 85225